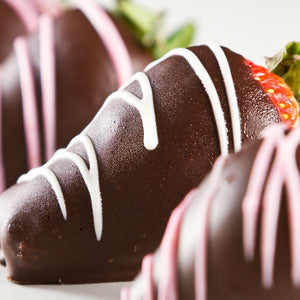 When someone starts eating healthier, their sweet tooth doesn't magically disappear! And it doesn't have to for them to stick to their diet. Let's explore some tasty treats to eat that are healthy and sweet while still providing you with nutrients!
Healthy Ice Cream
Have you ever craved ice cream but knew it was healthier to eat a banana instead? Now you can have both. All you need is a few ingredients and tools:
3-4 bananas
Milk (dairy or nut)
Maple syrup (optional)
A pinch of sea salt
½ teaspoon of vanilla extract
Food processor/blender
This can be a great pre-or post-workout snack or a mini dessert after you finish a delicious lunch or dinner!
Chocolate-Covered Strawberries
We all know that fruits and veggies are usually the vehicle for the sauce we dip them in. Chocolate-covered strawberries are trendy around Valentine's Day, but you can make them whenever you want!
For your chocolate dip, you can use ingredients like:
Milk or dark chocolate
Unsweetened cacao or cocoa powder (cacao is the raw, unprocessed version of cocoa)
Chocolate whey protein powder
If you use regular chocolate, melt it down, dip the strawberries, and allow them to cool off. When using any powder, mix it with water until you achieve a smooth consistency.
Frozen Yogurt Blueberries
This treat is easy to make and still gives you the antioxidants for your body. All you need to do is follow these steps:
Rinse the desired amount of blueberries
Pat them dry
Add ½ cup yogurt
Add ½ tsp vanilla extract
Include 3 tsp of honey
Mix ingredients together
Dip the blueberries using a toothpick
Freeze the blueberries until ready to eat
This quick recipe is great for anyone looking to bring some quick and healthy treats to work or as a mid-day snack! You can also replace the blueberries with strawberries, grapes, bananas, and more.
Oatmeal Energy Balls
This treat is fun to make and can be a great healthy snack to grab when you're in a hurry. All you need is a few ingredients, like:
1 cup rolled oats
2 tbsp maple syrup
¾ cup peanut butter (or nut butter)
¼ cup flax seeds
Protein powder (optional)
Chocolate chips
Mix the above ingredients, roll them into balls, and pop them in the freezer to eat later for a sweet and healthy treat!
Sugar Coated Almonds
Almonds rank in the top 10 healthiest nuts among all nut varieties because they contain fiber, vitamins, calcium, and more.
If you're looking for a snack that won't require any time in the kitchen, be sure to buy sugar-coated almonds to help you eat healthy while still satisfying cravings.
These tasty treats to eat that are healthy and sweet will help you continue your nutritious diet without compromising that strong sweet tooth!