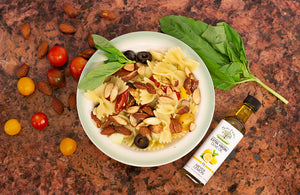 A super easy pasta salad with roasty-toasty Sohnrey Family Foods Almonds and a light Sutter Buttes Lemon Olive Oil dressing. This salad can be made with your favorite type of pasta, whether it be Gluten-Free elbows or traditional farfalle (bow tie) pasta like we used.
Fresh cherry tomatoes, peppers, onions, and cucumber give this salad brilliant color, freshness, and nutritional value, making this a fantastic for Summertime (or Anytime). Sohnrey Family Foods Roasted Salted Almonds give this salad some crunch texture, roasty nutty flavor, and added protein. The almonds and olives give the salad some much needed saltiness--and for that reason, we say "salt to taste" in the instructions.
The Sutter Buttes Lemon Olive Oil keeps this salad simple and light while giving it a naturally rich dressing with a lemon flavor. For a tangy twist, substitute Balsamic Herb Almonds for the Roasted Salted Almonds. You'll get little punch of tangy vinegar, herbs, and slightly sweet flavor to compliment all the other ingredients.
Pasta Salad with Almonds and Lemon Olive Oil
Yield

8 servings

Prep Time

12 minutes

Cook Time

5 minutes
Ingredients
16 oz of Your Favorite Pasta or Gluten Free Pasta
1 Can (6 oz) of Pitted Black Olives (Chopped)
2 Cups Cherry Tomatoes Halves
1 Medium Cucumber (Diced)
1/2 Red Onion (Diced)
1/2 Large Red or Yellow Bell Pepper (Diced)
1/2 Cup Sohnrey Family Foods Roasted Salted or Balsamic Herb Almonds (Chopped)
About 1.5 oz of Sutter Buttes Lemon Olive
Salt and Freshly Ground Black Pepper to Taste
Instructions
Bring water to a boil in a large stock pot.. Follow directions on your preferred pasta package.
While water is heating, rinse and chop vegetable ingredients. You can store vegetable ingredients in refrigerator to keep crisp. Chop almonds and set aside in separate dry bowl.
Cook and drain pasta. Let cool to room temperature. Place bowl of pasta in freezer or refrigerator to cool faster.
Drizzle Lemon Olive Oil while combining everything in large mixing bowl to evenly coat and mix all ingredients.
Serve with fresh basil leaves for garnish or sprinkle with basil chiffonade before serving.