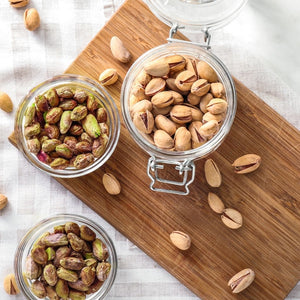 Even though chips and dips are crowd-pleasers, nuts can also be a great addition to a game night or any gathering you host. Nuts are both vegan and gluten-free, so anyone with diet restrictions or preferences can enjoy them. They are an extremely versatile food that works well with tons of different flavors.
Check out the creative ways to serve nuts as an appetizer at your next event! Nuts have come a long way from simply being poured into a dish!
Mason Jars
For special occasions like showers or birthday parties, you can serve nuts in tiny mason jars. Not only does this alleviate contamination concerns, but it also makes for easier snacking. Feel free to customize the jars with the date of the celebration and a ribbon. If you can't find tiny mason jars, save and clean out baby food jars!
Customizable Trail Mix
Not everyone likes raisins, okay? Creating a customizable trail mix table allows the picky eaters to develop a blend of their own — this applies to both children and adults. Provide almonds, peanuts, cashews, M&Ms, dried fruits, Goldfish crackers, or even chocolate-covered espresso beans. Anything will work and the flavor combinations are endless!
Cheese and Charcuterie Plates
Nuts provide a welcome crunch to any cheese and charcuterie plate. For your next party, don't forget the assorted nuts to accompany the savory meats and cheeses — they're a crucial part. Nuts add texture and range, from raw to roasted, or even sweet, like candied almonds. You can also buy sugar-coated almonds for your next party and save yourself some time!
Party Mix Recipe
Did you know you can create your nut flavor profile? The key is to incorporate a little bit of sweetness and spice:
Preheat your oven to 300 degrees.
Line a cupcake tray with cupcake liners.
Toss raw nuts with maple syrup, olive oil, and salt as a base.
Customize the flavoring depending on your preference, occasion, or season by adding one of these flavor combinations:

Rosemary, fennel, and orange
Ginger, brown sugar, and cloves
Coconut and curry powder

Evenly divide the nut mixture into the tins and bake for 20 to 25 minutes.
Allow the nuts to cool before serving — you now have an original recipe in individual servings!
With these creative ways to serve nuts as an appetizer, you'll wow your guests at your next party! Explore the blogs at Sohnrey Family Foods for more ideas!