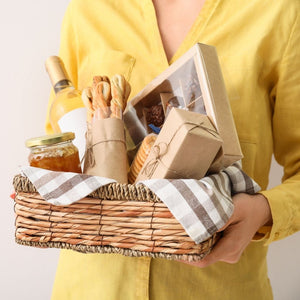 Gift baskets are a quick and easy way to send a "thank you." Better yet, they are easily personalized for each specific household. You probably don't know everyone's likes and dislikes, and gift baskets will provide you with many different options. It will save you a headache from running all over town and stressing. Let's explore some of the reasons gift baskets make the perfect present for families.
Something for Everyone
Gift baskets have a wide variety of options. From fruit to chocolate, and even wine, it sends the message that you are thinking of them. You can tailor your selection around a particular group's interests or lifestyle. Whether a meat-lover or a coffee connoisseur, the options are bountiful. In addition to our gift baskets, we offer a variety of other options, such as the ability to order nuts online, ingredients for gourmet meals, or even spreads to enjoy.
Cost-Effective
Gift baskets will provide you with a great bang for your buck. Everything is all in one place. You are going to spend less than buying gifts for each particular person. Realistically, if you think about what it takes to create your own bundle, the choice is clear. Acquiring items for your piecemeal will add up quickly.
Save You Time
Instead of spending your time running all over town searching for something ideal, a gift basket will have everything already wrapped up. Ordering online is a great tool to use to save time. A few clicks and you're good to go.
Perfect Presentation
One of the spectacular things about them is that they come packaged already. The baskets from Sohnrey Family Foods are a wonderful option. The hard work is already done. We have taken the time and created a flawless presentation. You can rest assured knowing the ideal package is on its way.
Whether you're looking for something smaller or over the top, know they will be overjoyed with receiving something so thoughtful. The next time you find yourself in search of an offering for a group, remember these reasons why gift baskets make the perfect present for families.