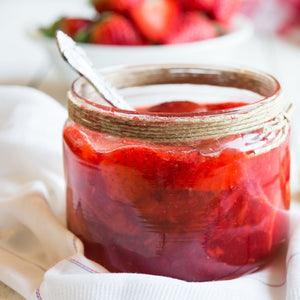 Jam can be a great gift for a loved one or for you to enjoy yourself. There are the usual suspects, such as strawberry or grape, but then there are some unique flavors that make for the perfect comfort food during the cold winter months. In this blog, we've included the best jams to bring out that seasonal feel and share with friends and family members—or keep all to yourself.
Oh! Berries by Mountain Fruit
Oh! Berries is a jam from Mountain Fruit that contains cooked-down marionberries, a blackberry that originates in Oregon. Compared to other blackberries, marionberries have a more complex flavor that still has the sweet and tart aspects but with slightly earthy undertones. Pair this with goat cheese, or spread it over warm bread all by itself.
Strawberry Gem by Mountain Fruit
Mountain Fruit reduces the amount of sugar in its jam so that all you taste is the fruit. You can add its flavorful Strawberry Gem to warm toast or even a bowl of oatmeal to give yourself a cozy breakfast as the snow falls outside.
Red Bell Pepper Ancho Chile Jam by Earth & Vine
Looking for something spicy to warm you up? The Red Bell Pepper Ancho Chile Jam from Earth & Vine is a bold, smoky spread. It pairs well with everything from a burger and brie cheese to your eggs in the morning. If you're into savory more than sweet, this might be the way to start your day.
Meyer Lemon Pear Marmalade by Earth & Vine
Most citrus fruits ripen to their best potential during the winter, and this jam producer knows how to balance tropical tartness with sweetness. Earth & Vine simmers California Meyer lemons with Bartlett pears to create this truly tantalizing symphony of flavors. It's a perfect addition to a scone or mascarpone cheese or blended with greek yogurt.
Don't venture out into the cold—you can find the best jams to bring out the seasonal feel at Sohnrey Family Foods. Order some of our jams and spreads today to get through the cold months ahead. Then, explore our other products to create the perfect wintertime dish!