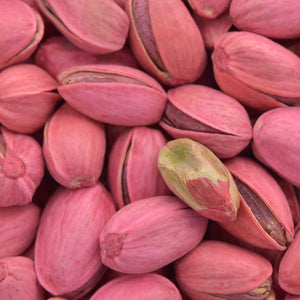 Red pistachios used to be a staple on the shelves of every grocery store, but if you're under a certain age, you might never have even seen these unnatural nuts. Younger generations have lost out on the fun of reddening their fingertips and lips after digging into a bag of pistachios.
So why were some pistachios dyed red? Learn more about the history of this missing nut.
What Are Red Pistachios?
That red color obviously wasn't the natural color of the shell. Normally, pistachios are a light tan. What are red pistachios? There's some controversy surrounding the explanation, but it's thought that the red food coloring added to the shells was to hide discolorations and stains.
When pistachios dry, a mottled marking appears on the shells. Some sellers were afraid that consumers wouldn't buy them, so they dyed them red to cover imperfections.
What Happened To Red Pistachios?
Pistachios were imported from the Middle East, and they always had the distinctive bright red coloring to disguise any discolorations that occurred during shipping. But pistachio imports slowed due to relations with Iran in the early 1980s, and in response, there was a growth in American pistachio producers. Thanks to mechanized harvesting that sped up the drying process and the lack of shipping, the shells no longer had the unsightly stains or the need to be red.
Can You Still Find Red Pistachios?
Initially, American producers also dyed the pistachios red. So why were some pistachios dyed red despite the markings on the shells being gone? American producers kept up the practice, assuming consumers expected the red shells.
Eventually, pistachio growers stopped dying the nuts as we moved away from additives in our foods. Sometimes, however, you can still find red pistachios around the holidays.
Order Pistachios
You can save money and buy bulk pistachios! Incorporating nuts into your daily diet gives you health benefits that help with weight loss and fight chronic disease. Learn more about the health benefits of nuts by reading the blogs at Sohnrey Family Foods.