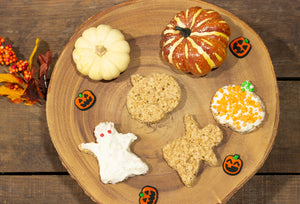 Want a treat that's less sweet? Add Sohnrey Family Foods Natural Almond Butter to your rice crispy treats for something a little nutty and very delicious! 
Get frighteningly creative this Halloween with some spooky cookie cutters, melted chocolate and sprinkles. Make your rice crispy treats fun for everyone to enjoy! Adding almond butter makes these treats a little bit healthier and the added protein makes them a little more satisfying. Give them a try!
Almond Butter Rice Crispy Treats
Yield

12 cookies

Prep Time

15 minutes

Cook Time

12 minutes
Ingredients
3 Tbsps. Butter
1/2 cup Sohnrey Family Foods Natural Almond Butter
1 package Mini Marshmallows
6 cups Puffed Rice Cereal
Optional Ingredients
White Chocolate Chips
Sprinkles
Instructions
Melt butter in large sauce pan on low heat. Add almond butter and mix well.
Stirring constantly; Add marshmallows. Cook until marshmallows are completely melted and mixture is well blended.
In a large mixing bowl combine puffed rice cereal and hot marshmallow mixture. Stir until well combined.
Press into 13x9 inch pan lightly sprayed with non stick cooking spray. Cool completely for the treats to firm up.
Cut into squares or use cookie cutters to make fun shapes. If desired, drizzle or spread with melted white chocolate and decorate with sprinkles.