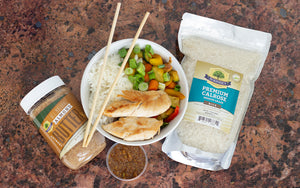 A Thai peanut sauce alternative, our Spicy Thai Almond Sauce is the star of this meal. Sohnrey Family Foods Natural Almond Butter gives this sauce a thick, rich consistency without using starchy thickeners. With fresh ginger, garlic, Sriracha, honey, and soy sauce, this Thai Almond Sauce is loaded with spicy Asian flavor.
Our Thai Almond Sauce also makes a fantastic dip for spring rolls, wontons, chicken skewers, shrimp, fried tofu and more. Anything you might use a Thai peanut sauce for, you can use Thai Almond Sauce for and it's the perfect sauce to drizzle over steamed rice, stir fry vegetables, and chicken! 
This recipe can easily be vegetarian or the chicken can be swapped with another protein--it's excellent with shrimp or tofu! And of course you can also swap out whatever vegetables you like with the ones we used. Want broccoli instead of zucchini? Cabbage instead of sugar snap peas? White onions instead of bell peppers? Substitute comparable amounts and go for it!
Stir Fry Bowl With Spicy Thai Almond Sauce
Yield 6 servings

Prep Time

10-15 minutes

Cook Time

20 minutes
Sauce Ingredients
1/2 cup Sohnrey Family Foods Natural Almond Butter
3 Tbsp Rice Vinegar
2 Tbsp Knaughty Farms Olive Oil
2 Tbsp Sohnrey Family Foods Honey
2 Tbsp Low Sodium Soy Sauce or Tamari (Gluten Free)
2 1/2 tsp Grated Ginger (or paste)
1 Clove Minced Garlic (or paste)
1 Tbsp Sriracha Sauce (Add 1/2 Tbsp for milder sauce)
Optional: 1-3 Tbsp Warm water as needed for thinning sauce.
Stir Fry Ingredients
2 lbs Boneless Skinless Chicken Breasts
2 Chopped Bell Peppers
2 Chopped Zucchinis
3/4 cup Sugar Snap Peas
1/2 cup Chopped Carrots
3 Sliced Green Onions
2-3 Tbsps Vegetable Oil for Cooking
Steamed Rice Ingredients
3 cups water
2 cups Sohnrey Family Foods Calrose Rice
1 tsp Salt
Instructions
Start your steamed rice. Use a rice cooker and follow their instructions or use our simple stove top directions for steamed rice.: In a heavy bottom 4 quart sauce pan with tight fitting lid, bring 3 cups of water to a boil; once water is boiling add 1 Tsp of salt and 2 cups of Sohnrey Family Foods Calrose Rice; stir once, cover and reduce heat to low; cook for 20 minutes. Do not lift lid and do not stir! After 20 minutes, remove from heat and let steam for 5 minutes with lid on.
While the rice is cooking prepare the spicy almond butter sauce. Peel and grate ginger (you can use paste from a tube or jar). Peel and finely mince garlic (or use pre-minced garlic from a jar). Combine sauce ingredients into a small mixing bowl and whisk together. Add optional 1-3 Tbsps of warm water to thin sauce and mellow the spice level if too strong for your taste. Set sauce aside.
Prepare the vegetables. Remove stem, core and seeds of bell pepper. Peel carrots or use baby carrots. Chop peppers, carrot, and zucchini, into bite sized 1/2 in pieces or cut them into longer strips if you prefer. Chop green onion and set aside in seperate bowl.
Prepare the chicken. Slice your boneless chicken breasts or fillets into pieces or strips to stir fry. Whole chicken breasts or fillets will take longer to cook and you should cook them until the internal temperature reaches 165 degrees on a meat thermometer.
Use 2 Tbsps of olive oil in your large saute pan or wok and stir fry chicken pieces until cooked through for about 10 - 15 minutes on high heat. Remove chicken, add another 1 Tbsp olive oil to your pan or wok and stir fry your vegetable pieces for about 5 minutes or until they are tender. For softer vegetables, add 1 Tbsp of water and cover with lid on high heat for 2-3 minutes to steam them.
Your rice should be done by this time and still hot. Prepare your bowl by adding a generous scoop of cooked rice or about 1 cup. Add vegetables and chicken to your bowl. Garnish with sliced green onion and optionally chopped cilantro. Drizzle with sauce or serve on the side in a cup. Optionally drizzle or serve with sriracha sauce.