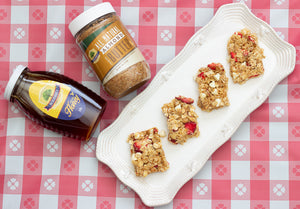 No-Bake Almond Butter Strawberry Oat Bars are one of those recipes you can mix up in a few minutes and set aside in the fridge while you do whatever else needs doing. These will satisfy your sweet tooth while providing some real nourishment from the raw whole grain oats and the Sohnrey Family Foods All Natural Almond Butter. The freeze dried strawberries give the bars some fruity, tangy flavor along with some extra crunch. We used Sohnrey Family Foods Alfalfa Honey, but each honey varietal has a different flavor--Sohnrey Family Foods Orange Blossom Honey would be nice.
For an extra touch of decadence and layer of texture we added white chocolate chips. You could use the basic recipe of oats, puffed rice, almond butter and honey as a base for experimenting with things like raisins, dried coconut, dark chocolate and different freeze dried fruits. Have fun and enjoy!
No-Bake Almond Butter Strawberry Oat Bars
Yield

12 bars

Prep Time

5 minutes

Cook Time

1 hour

Ingredients
1 1/2 Cup Puffed Rice Cereal
1 1/2 Cup Rolled Oats or Quick Oats
1 Cup Freeze-Dried Strawberries
1/2 Cup Sohnrey Family Foods All Natural Almond Butter
1/2 Cup Honey
Optional Ingredients
1/3 Cup White Chocolate Chips
Instructions
In large mixing bowl, combine all ingredients thoroughly until mixture is evenly coated with honey.
Press mixture evenly into a 8" square baking dish lined with parchment paper.
Chill in refrigerator or freezer for for about one hour or until mixture is hardened.
Cut into bars and serve immediately.