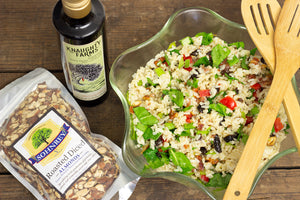 This recipe was adapted from a Sunsweet recipe. After finding this recipe I thought, what better recipe to share than a dish that features the trifecta of crops our family grows: rice, almonds and prunes. To top it all off the dressing is made with high quality extra virgin olive oil produced by our Kennedy cousins at Knaughty Farms. This is a hearty and satisfying rice salad packed with all kinds of California grown goodness--and did I mention bacon?
Rice is really a wonderful grain for salads and provides the perfect dance floor for all the other ingredients to mingle. Roasty and crunchy chopped almonds; colorful and fresh bell pepper; sweet and chewy dark prunes; tender green spinach; and the rich, salty flavor of crispy bacon. All of it comes together with a light rice vinegar and olive oil dressing that lets the flavors of the ingredients shine through.
This could be the perfect salad to bring to a family picnic or barbecue.
Tips
Rice Tips: Don't uncover the saucepan or stir the rice during cooking. If it's done before you're ready to serve it, place a folded towel over the saucepan, replace the lid, and set aside. The towel will absorb excess moisture and condensation, helping prevent overcooked and mushy rice.
Salad Tips: Make sure the rice is completely cold before salad preparation and give yourself plenty of time by cooking the rice a day in advance. Better yet, use left over rice from previous nights dinner. Salad itself may be prepared a day in advance and left to chill, but be sure to add the almonds and spinach just before serving so they don't get soggy and wilted.
Rice Salad with Prunes, Almonds and Bacon
Yield

8 servings

Prep Time

10 minutes

Cook Time

20 minutes
Salad Ingredients
Dressing Ingredients
1/4 cup rice vinegar
1 Tbsp soy sauce
2 cloves garlic, minced
Freshly ground black pepper to taste
Rice Cooking Instructions
Pour water (for every cup of rice, use 1 1/2 cups of water) into a large saucepan with a tight-fitting lid. Bring to a boil. Mix 1 teaspoon salt into the water.
Add rice to the boiling water.
Stir once.
Cover the pot and simmer. Be sure the lid fits tightly. Turn down the heat to low. Let rice simmer for about 20 minutes, then remove from heat and allow the rice to steam in the pot for another 5 minutes.
Fluff rice with a fork Just before serving, gently fluff the rice with a fork to separate the grains.
Salad Instructions
While the rice is cooking you can cook your bacon. I cooked my bacon in the oven on baking sheet lined with parchment paper. Cook until crispy.
Prep the vegetables, almonds, and prunes. Chop everything into bite size pieces. I used Sohnrey Family Foods Roasted Diced Almonds.
Add all salad ingredients to a large mixing bowl.
Whisk together all dressing ingredients in a small bowl and add to salad.
Toss well to coat and break up any large clumps of rice.
Salad can be enjoyed immediately or chilled for 1-2 hours.